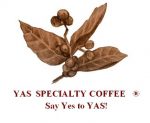 Short Business Description
1. Coffee purchasing from farmers, local suppliers, government and private estate.
2. Coffee processing for International market
3. Coffee processing for Domestic market
4. Coffee trading for International & Domestic market
Long Business Description
We source our specialty coffee Via Direct Trade.
More than paying a fair price, it means working in partnership to improve quality of coffee and livelihoods, long-term .
YAS DIRECT TRADE COFFEE MEANS
1. You can find out exactly where, how and by whom your coffee is produced.
2. The farmer receives a fair, sustainable price. Always covering the cost of production.
3. Your coffee comes from farmers committed to sustainable agricultural practices.
4. You get access to unique coffees. Through our direct sourcing and long-term relationships.
5. You are guaranteed to drink a delicious cup of 100 per cent specialty coffee.