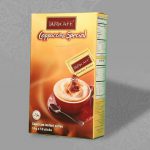 Short Business Description
Instant Coffee and Juice Powder, Milk Tea
Long Business Description
Viet Middle East Import Export Trading Company. We are manufacturer specializing in producing and supplying Instant Coffee and Juice Powder, Milk Tea ect… i would like to offer you the main categories of our products, as below:
* 8 types of Instant Coffee:
1. CAPPUCCINO HAZELNUT
2. CAPPUCCINO MOCHA
3. CAPPUCCINO SPECIAL
4. ICED COFFEE
5. COFFEE FOR MEN 3 IN 1
6. COFFEE FOR WOMEN 5 IN 1 (With Honey and Collagen)
7. MILK TEA – MATCHA TEA
8. CHOCOLATE TEA
* and 5 types of Juice Powder:
1. ORANGE JUICE
2. MANGO JUICE
3. LEMON JUICE
4. STRAWBERRY
5. MELON
At the present, our products are available at the supermarkets of Palestine, Dubai, Saudi Arabia, etc. And with the purpose of expanding our business activities, we are looking for potential customers in Middle East, Asian area and over the world to distribute our products.