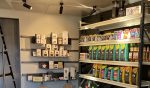 Short Business Description
Gridlock Coffee Roasters is an award-winning coffee supplier based in Melbourne. We are open to assist you to experience our specialty in roasting.
Long Business Description
Our head Roaster, Con Haralambopoulos, a highly acclaimed barista champion with a long list of champion titles to his name, including World Latte Art Champion, is authorised to use his very own handcrafted blends.
We offer every cup with our finest seasonal beans and shape every flavour exploring technique by our baristas. Be it single-origin, blend or filter coffee, you will get every option. So put the kettle on as we supply our freshly brewed beans all over Australia, or brew your coffee by shopping for any brewing equipment.
Take part in our journey to experience our excellence, and we promise to establish the maximum flavour in your coffees.