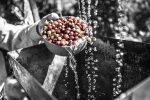 Short Business Description
Green Beans Online is a 100% green coffee beans supplier specialising in looking after home coffee roasters to small coffee roasting businesses.
Long Business Description
Australia's Best Green Coffee Bean Supplier
We could wax lyrical about green beans online's pedigree and the expertise of over 25 years in the industry and that we have spent over 20 years traveling all over the coffee growing world, being part of coffee judging panels, listening to the globes experts wax lyrical over coffees, learning, tasting, listening, contributing. and what we learned is to keep it simple. (blah blah yadda yadda) but who gives a shit!
The best thing to do is to get to know us – we'd love you to join our green bean revolution online and let us make buying your beans simple, easy and educational.
We're more than just coffee experts and if you want to know more, read on or get in touch, or you could just get on with it and buy some beans by clicking here.
We Offer the Best Green Bean Coffee
It is important to know that we source the best beans around industry standards but more so, Micro lot and specialty beans.
We travel to far flung locations all over the world to source micro lot and specialty green beans.
Just a quick note about pricing I bet you are thinking how the F**K can we deliver prices this low?? When we say we strive for the best quality specialty coffee, we get that. We believe that you the consumer shouldn't have to pay ridiculous margins just because the coffee is expensive. We can achieve these prices because of our low overheads and clever business practices – we are really smart dudes LOL!.
We do have very sexy packaging and we do have great and quick service this is what we do!! We don't F**k around.
Alright… that's enough of the Marketing bullshit and hype let's just get on with it. In a nutshell we simply do what we say, we look after your needs on all fronts.
gbo is green beans online – simply simpler to understand, simply affordable, in simpler bag sizes, making it simpler to order. well hell, gbo is just a simpler choice pure and simple
What do you reckon isn't that a bloody terrific company vision?