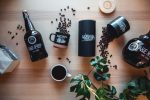 Short Business Description
Quality + Sustainability is where we live at A&E Coffee & Tea. We source coffee beans that have a story to tell and have a fantastic flavor composition. It is a privilege and honor to represent the growing communities when we process and present the coffees to our customers.
Long Business Description
A&E Coffee & Tea opened in 2001 and was the first USDA Certified Gourmet Organic Coffee Roaster in New Hampshire. Each batch of our gourmet coffee is carefully roasted in our Nashua facility by our roastmaster. We source excellent coffees for both our single origin and blend programs, insuring quality + sustainable coffees across the board. It is batch-roasted to bring out the unique characteristics embedded in each coffee variety, with blending always happening after the roast. Our teas are distinguished by the quality of the leaf and flavoring components to ensure a premium cup every time. Order our online coffee and get gourmet coffee delivered from our organic coffee roaster.